The Golden Sunbeam – A Beautiful Headache
This lovely old bicycle was brought into the workshop for me to make it ridable. The Sunbeam is not the easiest bicycle to work on as the machine wasn't designed to be taken apart and put back together by anybody other than the knowledgeable people in the Sunbeam factory. Even simple things like replacing a tyre are a headache on the Sunbeam compared to other bicycles.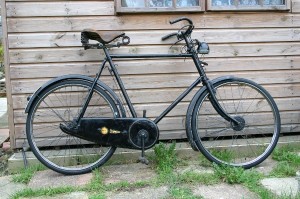 The picture shows the bike after I had done some work to it. The front dynohub needed setting up correctly and the wheel refitted. I then had to refit the unusual, and obsolete, brake blocks.
Tyre fitting made interesting
The rear wheel had no tyre or tube so these needed fitting. Removing the rear wheel is a real pain so I fitted them with the wheel still in the bicycle. It wasn't easy, but it is a lot easier than rear wheel removal. Before fitting the tyre I tightened the mudguard bolts. These were difficult to get to, but would have been impossible to reach with the tyre in place.
Brakes next
Once the wheels were set up correctly the brakes could be made to work;
The front brake already worked but I made a small adjustment to make it work a little better. It won't work exactly as it was designed to work as the return spring is either incorrect or damaged. The brake works satisfactory using gravity as a return spring. I will ask the customer if he wants me to try to find a suitable replacement spring.
The rear brake was seized with very little movement. WD40 and a lot of part wiggling sorted it out. It was then a case of setting it up correctly and properly lubricating every moving part. The rear brake works very nicely now.
I fitted the saddle and the bicycle was in the condition that you see in the picture.
The chain is a pain
To complete the job I first need to get the transmission working; I need to refit the chain, which is an extremely complicated and fiddly task on this particular bike. I then need to fit a new indicator set to the Sturmey Archer K4 hub. These parts are of course obsolete but I do currently have a very limited source of NOS parts and this is one part that I am able to obtain. Since the photo was taken I have already fitted the quadrant lever and cable roller, so as soon as the indicator set arrives I can have the K4 running.
The left pedal needs a cone and locknut and new bearings. Alternatively a replacement set of non-original pedals is available.
A set of handlebar grips and a tidy up of the dynamo wiring should complete the job.