Important Information
Covid19 – Appointments are particularly important during the pandemic as I need to limit the number of people here at the same time. Please phone to arrange your visit and I will explain what we need to do to keep everybody safe whilst still giving you the friendly and welcoming experience for which I am well known.
A Passion For Historic Bicycles & Motorcycles
Thank you for dropping by. Please take a look at the short video above and find out what I do and more importantly, why I do it.
Is your old bike looking a bit tired?
Based in the town of Hailsham, East Sussex, Colwood Wheel Works specialises in older bicycle / motorcycle wheel repairs and restoration.
Hello, I'm Vince Warner. I love to see old bicycles and motorcycles restored and used again. I also specialise in bicycle and motor cycle wheel building and repair. As well as these services, I'm one of a fading few that offers restoration of the famous Sturmey Archer hub.
Some would say that I'm an expert, I would just say that I'm passionate about all things old bike. So much so that I even run courses to teach others these skills.
I'm delighted that you found your way here. Take a look below to see my services and help with finding your way around my website.
Motorcycle Wheel-building and Repair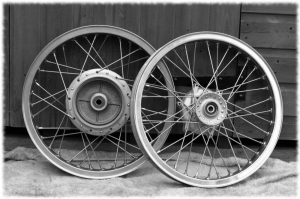 Whether you require a simple retrue to get through an MOT or a complete rebuild, I can help.
I offer competitive rates and the kind of service that you only get with a small family business.
Need a quote or maybe just a little advice? Give Vince a call on 01323 848667 or visit my contact page.
Wheels built to the highest standards of safety and reliability. Find out more here.
Bicycle Wheel-building and Repair
Taught by my father back in the 1960s, you could say that I have had a little practice at bicycle wheel building and repair.
Over 40 years of experience building bicycle wheels means your wheels will be perfect in every way. I can't help it. I just can't let them go until they are right 🙂
Beautifully true and perfectly tensioned wheels built by an experienced craftsman with a passion for old bicycles. What more could you ask for? Oh yes, friendly service and a fair price. So we do that too. Find out more here
Bicycle and Motorcycle Wheel Restoration Training Courses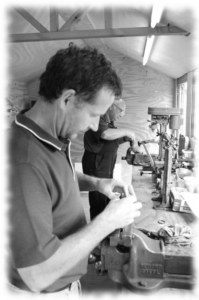 Whether you need to learn how for practical reasons or just fancy learning a wonderful craft, I would dearly love to help you.
There are few things that give me more pleasure than seeing others learn this fading craft. I run courses showing how to build and repair spoked wheels and Sturmey Archer wheel hubs.
As well as learning a new skill, my courses are a lot of fun. If you are a good student, I'll even keep you fed and watered with refreshments and lunch.
Is the thought of repairing or even building your own wheel from scratch a big no-no? I can teach you the basics in one day. Are you too nervous to open your Sturmey Archer hub in the fear that you might lose something important? Then we need to speak.
These skills can be learnt just like any other skill and my restoration courses are the ideal way to learn.
Full-day courses with a maximum of just two people on each course means that you will receive plenty of individual attention, giving you the best opportunity anywhere to learn these fascinating skills. More info
You can discover more about the bicycle and motorcycle wheel building training and access some free video content at excellentwheels.com
Sturmey Archer Hub Gear Repair and Restoration
Sturmey Archer hubs are my passion!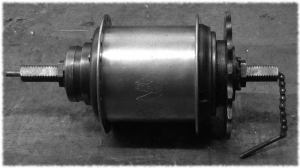 I specialise in the service and repair Sturmey Archer hubs from 1921 to 2000. I am able to put almost any hub from this period back into working order subject to parts being available.
Think your Sturmey Archer hub can't be saved? Age and condition is probably not a problem. Give me a call or drop me an email and I'll be happy to let you know.
For information about my Sturmey Archer Hub repair service click here.
Classic Bicycle Repair and Restoration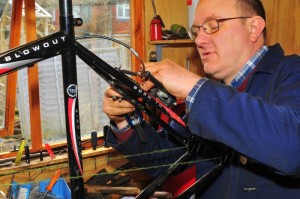 Specialising in older bicycles; I offer a full servicing and repair service. I am also able to advise you on some restoration issues and help you to restore your old bike. More info