There are so many different Sturmey Archer hubs and variants within the hubs that there is always something new to learn. The S3C is certainly not the most common and is one of the more interesting. I bought this one on eBay because although I had a good understanding of how it works I'd never actually taken one apart. So today I put this right and I dismantled my newly acquired Sturmey Archer S3C.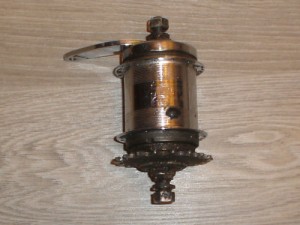 This is one of the more complicated gears that Sturmey Archer produced. In order to ensure that the drive is alway completely disengaged during braking the gear ring pawls and the low gear pawls are each on pawl rings separate from their respective assemblies. the other complication is the NIG type clutch and driver which allows direct braking without using the planetary gears.
I replaced two broken pawl springs; One was a gear ring pawl spring which was a standard HSA120 spring but which I fitted with the pawl still in place as the pawl pins are not easily removed. The second was in the driver which had me scratching my head until I realised the the spring is not the standard pawl spring but is in reverse of the usual design. A carefully adapted HSA120 pawl spring soon had the pawl working nicely.
Thankfully all the other parts were in good order with very little wear. Finding some replacement parts for this hub would have been difficult. This Sturmey Archer S3C hub is now reassembled and fully functional.