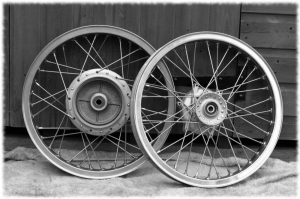 Specialising in wheels for older motorcycles I offer a complete motorcycle wheel building and repair service.
Maybe your wheel just needs a retension or retrue.  No job is too small and I will true your motorcycle wheel for you, while you wait, for just £50.
If your wheel is a bit beyond just a retrue then rebuilding may be necessary.
I will never compromise on quality and back that up with a long guarantee which to my knowledge is unmatched by anyone else in the wheel building industry.
Motorcycle Wheel Building Prices
The cost for rebuilding your motorcycle wheel depends on whether I need to supply parts.   I have fixed prices so you will know how much the rebuild will cost you before you agree to the work.
If you already have all the parts the cost is £125 per wheel.
To rebuild with high-quality stainless steel spokes and nickel-plated brass nipples is £225 per wheel.
(Galvanised spokes are also available if required)
Your motorcycle wheel may need a new rim.  Steel rims are available as unfinished bright steel (ready for painting or other refinishing), excellent quality triple plated chrome or stainless steel.  Alloy rims are available valanced or non-valanced.  Prices of rims vary depending on the finish and size required.
I am proud to offer excellent quality both in my workmanship and of all parts that I supply and fit.
Important Note
Please resist the temptation of dismantling your motorcycle wheel before you bring it to me as there are some important measurements that I need to take.  I will take the measurements and dismantle your wheel for you and then give you the hub and rim back for any refinishing work that you might need to do.  Meanwhile, I will be able to order the spokes ready for building.
If you have already dismantled your wheel please don't worry.  It just means my head will probably hurt a bit while I try to work things out.  I don't charge any extra for a painful head 🙂
Call Vince on 01323 848667
and ask about the unique Colwood Wheel Works
5 year guarantee!