I've just taken delivery of a very large consignment of used and NOS Sturmey Archer spares and complete hubs.
I now have a large stock of Sturmey Archer AG,and GH6 hubs which can be supplied as received or fully serviced. There are a few FG 4-speed hubs which will be reconditioned or stripped for spares, depending on condition. Some of the less desirable AG hubs (i.e. rusty or damaged) will also be stripped for spares.
Among the front Dynohubs are two 12 volt, GH12 hubs; one is almost totally complete and the other is missing one of the main dynamo parts. I also noticed a couple of BSA dynamo front hubs.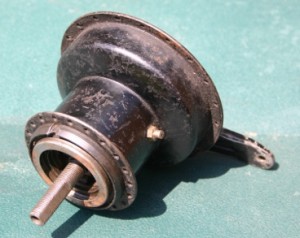 Other nice finds include a black KB with an AB internal and parts missing and another KB with the driver missing, but which may be repairable.
Among the Sturmey Archer Spares is a good stock of AW and AG/AB main parts: axles, gear-rings, planet cages and ball-rings. Many of these are from earlier hubs which were better made than Sturmey Archer's later offerings.
Over the next few weeks I will be making up some reconditioned AW and AB/AG internals which will be available for purchase. I will be matching parts as much as possible so there will be early and late internals available.
Also in the consignment were a few rarer Sturmey Archer spares which will be used only for repairs, and a very small selection of used, but very good condition pre-1951 12-splined sprockets which are available for purchase!