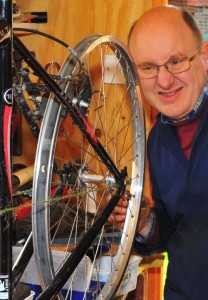 Some time ago I posted about a mountain bike frame that appeared to be out of track.
Yesterday I finally got around to stripping the bike down and checked the tracking of the frame. I rechecked the wheel and confirmed that it was indeed dished correctly.
I then checked the frame and found that it was also in track.
After some time wiggling stuff about I realized that the cheap frame in this bike had track ends that are too wide for the wheel spindle. Therefore the wheel was sitting at an angle unless it was installed very carefully. I added some washers to each end of the axle and set the wheel back into the bicycle with the axle at the top of the dropout and everything is now in-line.