The Millennium wheel is a bit big for the Colwood Wheel Works workshop, but as a wheel builder I find it very interesting.
It was opened to the public on 9th March 2000 and at the time was the biggest Ferris wheel in the world. It was renamed "The London Eye" in 2011.
From the top of the wheel it is possible to see a distance of about 25 miles providing the weather is clear.
The millennium wheel rotates anticlockwise when viewed from the south bank of the river Thames. It takes 30 minutes for one complete rotation.
Is it really a Ferris Wheel?
Engineers (and probably the London Eye staff) may refer to it as a cantilevered observation wheel. A large A-frame supports the wheel on one side only. A large piece protrudes on the other side of the support to counterbalance the hub. This counterbalance is what gives the cantilever principle.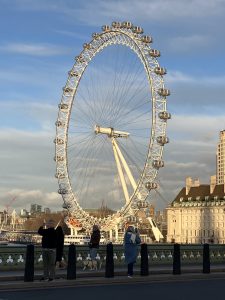 Viewing Capsules
The London Eye has 32 observation capsules which are numbered from 1 to 33. You will not find a Capsule 13 because some people consider the number to be unlucky. The 32 capsules allow for even and balanced distribution of the weight. Each capsule is balanced by the capsule opposite and two other capsules at 90 degrees from them.
The Wheel
It is a tensioned wire wheel using two sets of 40 multi-stranded 110mm diameter spokes laced in a radial pattern alternating from each side of the hub. A tangential spoke pattern is not necessary (although it would look wonderful) because the rim is not required to transmit the drive any further. As the wheel turns so slowly (just over half a mile an hour) there is no problem with the hub twisting within the rim.
Conclusion
The designers of the London Eye have used a very simple, efficient design that does everything that is required. I see it as a wonderful piece of engineering.